It's Day 6 of We're Parents!? New Home, New Roots Event. Are you exciting about all these great giveaway!? No need to worry if you missed the few giveaway posts already up. To see all the giveaways for the event and enter to win the open ones just click the image below! 
Click on the image below to be redirected to a list of open giveaways.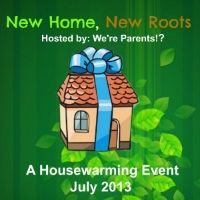 Thirty One
was started 10 years ago (Happy Anniversary!) by a group of women that wanted to give other women the opportunity to own their own business.  They wanted their business to be one where women felt they deserved to treat themselves and those around with with a special gift.  And from that a beautiful business was born. Jess Grieco, a one of a kind, amazing, independent consultant with Thirty-One, wanted that opportunity.  So when it was time for her youngest to start school, she decided that Thirty-One was the perfect opportunity for her. She took the leap and now 2 years later, she is a Director for Thirty-One, leading over 40 ladies across the US.  Making new friends, earning free bags, gift cards, and even a trip to the Dominican Republic has made it all worth it for her. 
Spring, Summer, Winter, Fall…no matter your needs, Thirty-One has it all.  (Just made that up, not even trying to rhyme!). But they really do!  Whether you need home organization solution, a new handbag or other travel accessories, storage solution for your next road trip, or having a backyard BBQ, they have a solution for all of your needs.  Their product line includes tons of accessories, like wallets, stationary, umbrellas, even scarves to jazz up your new handbag you get from them too!  For bigger needs, they have thermals for traveling or backyard BBQs, utility totes, under-the-bed storage solutions and so much more.
What's even better about the company that has all the answers to your storage needs is that you can have everything personalized to make it your own or to know exactly what's inside your bins that you put away!  The material is only the best, made to last, and easily wipes clean too!  Thirty-one is just an all around great company and Jess Grieco makes shopping easier by being there to answer any questions and getting everything to you as fast as possible!
To see a full review of the brand new complete office storage kit, JUST CLICK HERE! 
Let's Party!!!
We're Parents has teamed up with Thirty-One to bring you one AWESOME opportunity! From now until 7/29/13, for every $31 you spend you get 31% off an item, even the most expensive item you can find!!! PLUS a Bonus!! For every $31 you spend, Jess Grieco is going to PERSONALLY throw in an adorable key fob like the one pictured below! To take part in this INCREDIBLE deal, just click HERE.
One lucky reader will receive the $75 Thirty-One Gift Cerificate!
Sponsored and Organized by: We're Parents and Thirty-One by Jess Grieco
To enter, please use the Rafflecopter form below. Giveaway ends July 30th at 11:59pm EST open to US and Canadian residents only, ages 18+.